This week our TeamCB SOTW is Fiona from
Bellecardsandgifts
Fiona is my darling friend, a fellow lover of peacocks, elephants, Moroccan designs, bright bold colours, boho style and of course is a fellow foodie.
We like to interview our team members so to find out more just carry on down the screen
Welcome to this week's
Shop of the Week
,
Bellecardsandgifts
, a treasure trove of vintage style trinket boxes and gifts. Find out more about Fiona in our interview…
Describe your "typical" working day or week
A typical day for me starts around 6.30 when I have my first cup of herbal tea, browse Etsy for new faves and look at my shop activity. I normally take this time to check my stats, relist any expired orders and, if I'm lucky(!) relist a sold order.
I am an absolute treasury addict and seem to find early mornings are the best time to create one, as I sit by my window overlooking the park and listen to the birds sing and the world slowly wake up. It's my favourite time of the day.
My best days to work creatively are normally Monday and Wednesday when I don't have college and other commitments to distract me. I make a list each week of what I would like to achieve and keep referring back to it as I find more inspiration. I like to sketch out my designs first although this often develops into something quite different!
At the moment I am working on a series of themed wooden trinket boxes…. I am photographing and listing my Shakespeare one today. Queen Elizabeth I and characters from Charles Dickens are the next ones in my Famous Brits series. Then I want to make a Vintage Olde Sweete Shoppe box, with candy pink stripes and handmade miniature sweets. I am thrilled to have just found a gorgeous dolls house miniatures shop local to me, where I can source gorgeous detail for my boxes.
My Sundays are taken up with doing a stall at the famous craft market Abbey Mills, where William Morris once had his print workshops. It is a wonderful place where I love to look at other stalls and find lots of lovely ephemera for my boxes – like lace, vintage watch parts, beads etc… so I am thrilled to be selling there myself!
What advice would you give someone taking up your craft for the first time?
For anyone considering starting their own craft business I would say '
Be Brave, Be Bold'
and in the words of the Grandfather of the British Craft Industry William Morris –
'Create For Love, Not Profit'
. I believe that if you are passionate enough about what you make, that passion will shine through and the sales will come!
Which piece of equipment would you be helpless without?
The item I could never be without is my pair of small but very sharp scissors. They are vital for getting great cuts, especially the fine detail of decoupage. I use them for so many other things too like wire wrapping and adding glue to small areas. There have been a few occasions when I have lost them and it's panic stations!
Tell us about what inspires and motivates you
I find inspiration in so many things, from exhibitions like Hollywood Costume at the V & A, to finding gorgeous vintage things at flea markets… basically anything beautiful from times gone by!
Thank you Fiona! We love your style and words of wisdom.
Fiona was talking to Nadine of imyinda and MuntjacVintage
Article published by Erika of
ErikaPrice
and
Blucha
jewellery
Some more gorgeous things from Fiona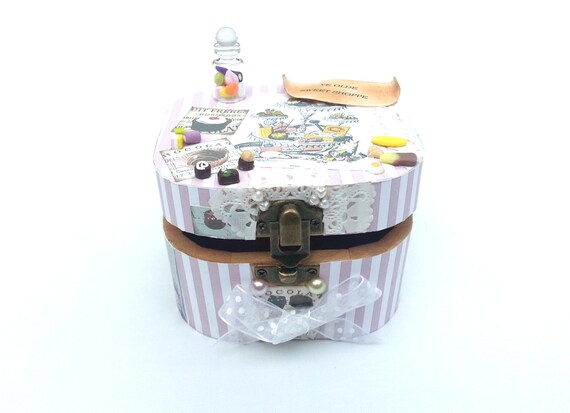 Vintage Sweet Shop Trinket Box Ye Olde Sweet Shoppe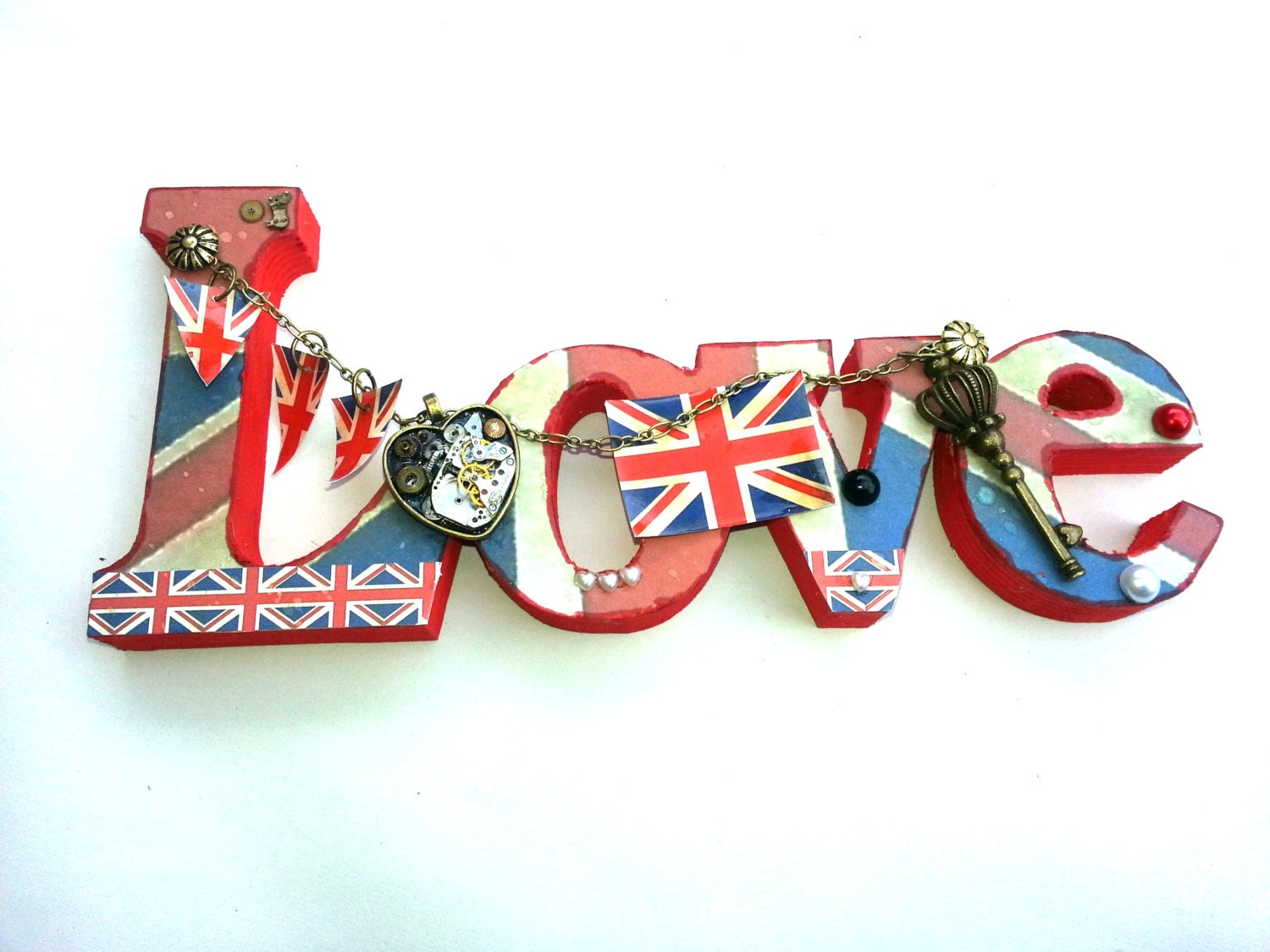 Union Jack Love Sign Steampunk Key

Purple Flower Headband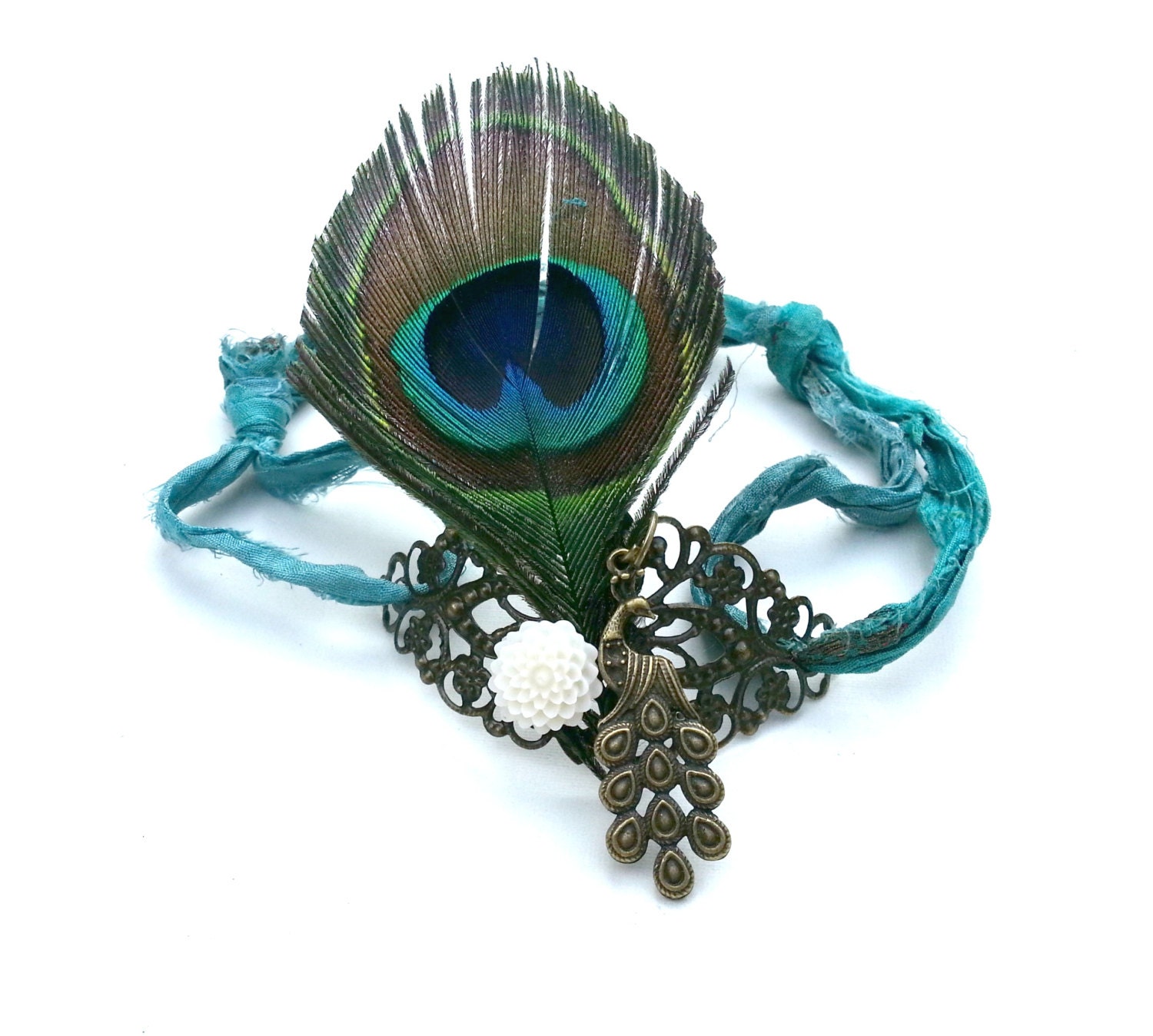 Peacock Cuff Bracelet